As part of our ongoing series which focuses on consumer and marketing trends around major holidays throughout the year, we've just released the
Memorial Day Holiday Hot Sheet
.
Memorial Day marketing emails are all about offers and sales
Experian Marketing Services looked at over 150 brands that sent Memorial Day emails in 2014 and mailings with offers or sales in their subject line made up over 80 percent of the Memorial Day mailings compared to 37 percent of promotional mailings sent by all brands in May of 2014.
The week leading up to Memorial Day has the lion's share of email volume and generates 90 percent of Memorial Day revenue. While the holiday itself had the highest percentage of revenue, the Friday at the start of the Memorial Day weekend may be a good day to increase mailings, as it received 21.8 percent of Memorial Day revenue from just 18.3 percent of volume.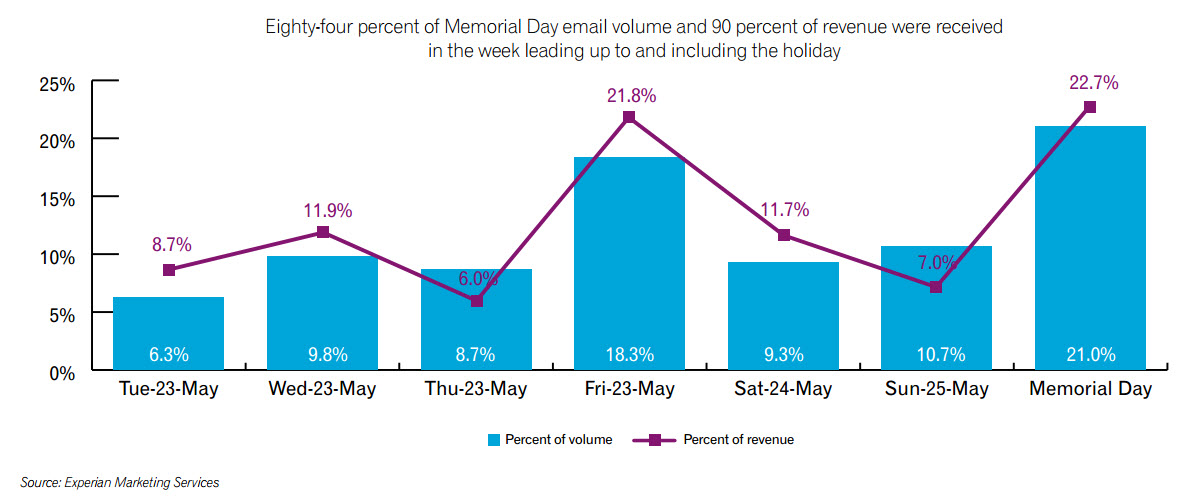 While most Memorial Day emails included offers in the subject line, free shipping and percent off subject lines yielded the greatest revenue per email. Subject lines with the key words of "sale" or "discount" also enjoyed high revenue per email.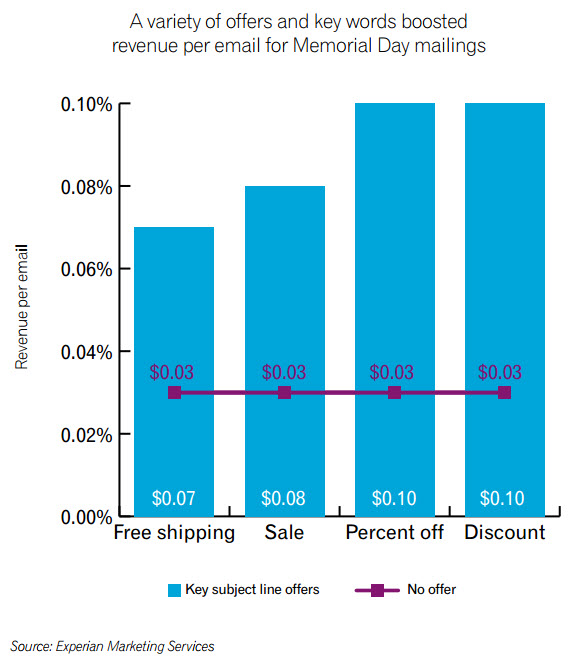 The search is on
When searching for Memorial Day sales or deals online, many Americans are commonly seeking out sales at specific retailers with some of the top being Best Buy, Home Depot and Guitar Center. In fact, seven of the top 15 variations of searches for "Memorial Day sales" or "Memorial Day deals" in 2014 contained the name of a retailer. Several variations also included reference to a type of product without mentioning a specific brand. For instance, "Memorial Day mattress sale" was the fourth most common variation of searches for Memorial Day sales or deals during the week ending May 31, 2014 and the highest ranking product category-related search that week. Vehicle-related searches also occupy two spots in the top 15.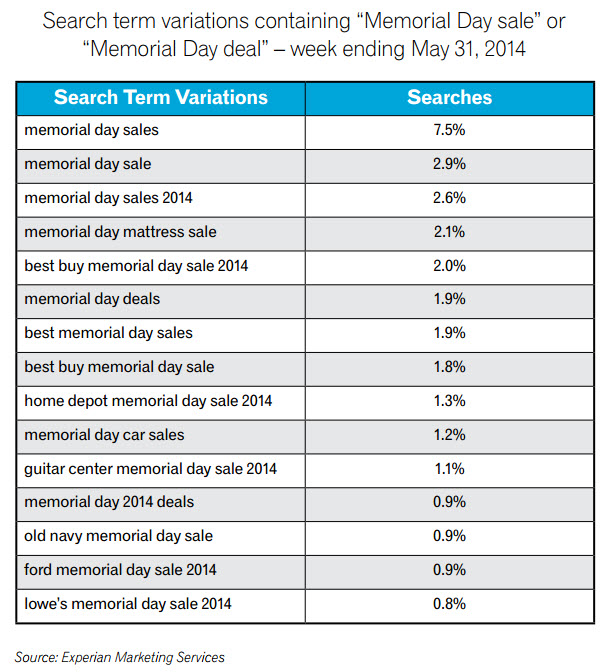 With many businesses closed or operating on a holiday schedule on Memorial Day, it's no surprise that in the days leading up to the holiday and on Memorial Day itself, shoppers are trying to figure out where and when they can shop — regardless of whether there's a sale going on. For instance, on Memorial Day last year, the fourth most commonly used keyword in Memorial Day-related searches was "open" and the 13th most common keyword was "hours." In many instances, consumers are looking for information on a specific retailer, such as "is Office Depot open Memorial Day" or "Kohl's Memorial Day hours." Though some are seeking general information such as which business are open.

To view the original article please visit:
http://www.experian.com/blogs/marketing-forward/2015/04/23/memorial-day-marketing-tips-successful-start-summer/